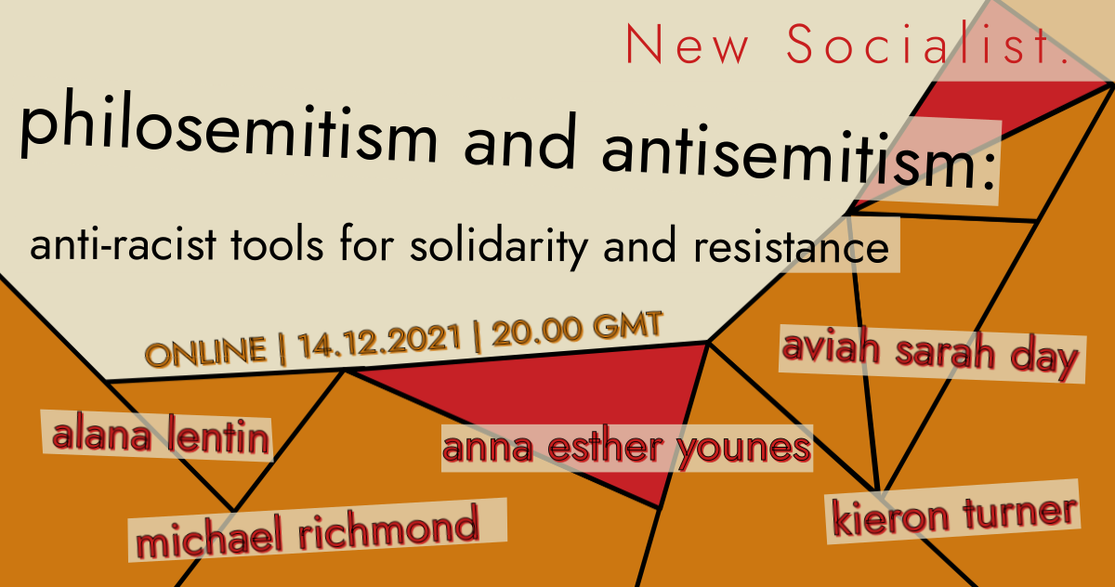 Join us at 8pm British time on Tuesday 14th December.
The immediate prompt for this event was to name, challenge, and explore the response of the racial colonial state to the protest against Israeli ambassador Tzipi Hotovely at LSE. This response–whether from a "disgusted" Priti Patel (who directly linked the protest to antisemitism), or from then-shadow Foreign Secretary Lisa Nandy (who called the protest "completely unacceptable"), or indeed from much of the media–needs to be understood as being grounded in an operationalisation of antisemitism by the Zionist movement, the state, and the far-right. This operationalisation attempts (and has, on the level of state discourse, largely succeeded) to articulate Jewishness inextricably to the state of Israel. This process of articulation extends not only far beyond this specific case, but far beyond Britain.
Our speakers will explore how we might both name and challenge this tendency, and will attempt to decolonise our understanding of antisemitism in a context where, alongside the emergent 'philosemitic' move, antisemitic discourses are used to rationalise nationalism and violent border regimes. The conspiracist notion of 'globalism' for example, is regularly deployed in order to deligitimise solidarity with migrants.
Responding to the above issues, this event will ask: How might centring and challenging antisemitism as a racial technology of power help to generate an anti-racist, anti-Zionist, internationalist praxis?
This event will be held on Zoom, with tickets available to New Socialist subscribers. It will also be streamed on our Youtube channel. There will opportunity for questions and discussion.
Speakers
Aviah Sarah Day is at Birkbeck, University of London teaching and researching as her job, and is community organiser the rest of the time. She is involved in the East End branch of Sisters Uncut, a national direct-action collective fighting cuts to domestic violence services as well as state violence. She is also involved in London Renters Union and the Kill the Bill Coalition, a national movement resisting the Police, Crime and Sentencing Bill.
Alana Lentin is Professor of Cultural and Social Analysis at Western Sydney University. She works on the critical theorisation of race, racism, and antiracism. Alana's latest book is Why Race Still Matters, and more of her work can be found on her website
Michael Richmond is the reactionary's nightmare stereotype–a communist, Jewish writer from North London. He has written about antisemitism for Protocols and for New Socialist. He is co-writing a book on the discourses and histories around "identity politics".
Kieron Turner is a Phd student in Global Studies at Sussex, focusing on Palestine solidarity direct action, and is a member of Palestine Action.
Dr. Anna-Esther Younes (she/her) is an independent researcher interested in Race Critical Theories, psychoanalysis, and Germany/Europe. Younes' focus is on figurations of Jewishness and Muslimness and how they connect to racialising tropes around Blackness and Indigeneity in settler colonial contexts, as well as in Europe. She has written the Islamophobia Country Report on Germany for several years and coined the term "War on anti-Semitism" as a "secret-sharer" (Edward Said) of the "War on Terror" in her 2015 PhD "Race, Colonialism, and the Figure of the Jew" (IHEID). Her work can be found on academia.edu or on her website.
The event will be introduced by New Socialist editor josie sparrow, and chaired by New Socialist editor Tom Gann.